Ingredients for 4 people
Preparation Time: 30 minutes
THE DELICIUS PRODUCT
Anchovy Fillets in Olive Oil 46g. Open our signature tin box of Delicius anchovies in olive oil and discover the genuine taste of tradition. Only the highest quality fish is selected, then skilfully salted and let to rest for months and months in wooden barrels, until it is perfect. It is then transformed into our fleshy fillets with a soft and determined taste. All the experience and the wise practice of entire generations has been translated in such a simple yet tasty food. An authentic recipe that will make you discover the real and full taste of an anchovy. A product of extremely high quality and delicious pleasure.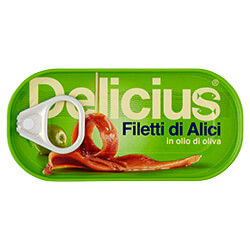 INGREDIENTs for 4 people
1 tin of Delicius anchovy fillets in olive oil 
1 glass of dry white wine 
PReparation
Clean the artichokes, cut them in half and empty the internal stuffy part with a melon cutter. Then squeeze the lemon to obtain a glass of juice. Rub the artichokes thoroughly with the lemon juice, then cook them in a low casserole with 3 spoonfuls of oil, the squashed garlic clove, the fresh thyme and salt – blend the cooking with the glass of white wine and add a glass of boiling water. Then cover and cook for 20 minutes until the liquid dissolves. 
Let the artichokes cool down a little before placing 1 or 2 anchovy fillets on each half. Garnish with chopped fennel herb.