Ingredients for 2 people
Preparation Time: 40 minutes
THE DELICIUS PRODUCT
Rolled Anchovy Fillets in Olive Oil DOUBLE 90g. Take two Delicius anchovy fillets, the ones that are really the best. Roll them up together and you will discover DOUBLE, the new anchovy twice the size, and twice the taste.In the classic glass jar they really seem huge, and they are. Hugely marvelous..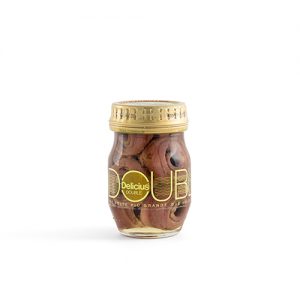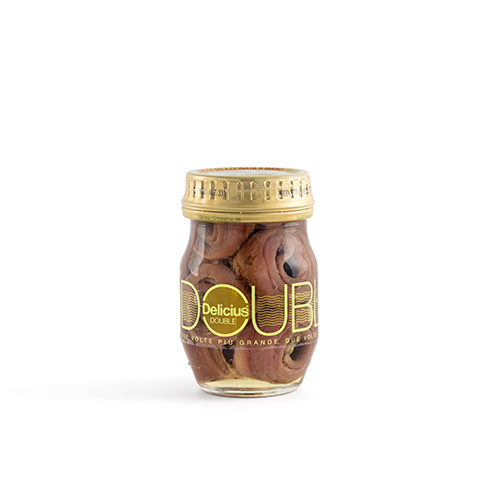 INGREDIENTs for 2 PEople
1 jar of Delicius Double anchovies in olive oil
200gr of ricotta cheese
100gr of cooking cream
100gr of Parmesan cheese
2 eggs
Sparkling water
2 tomatoes
Garlic
Breadcrumbs
Marjoram
Round kitchen aluminium disposable moulds
PReparation
Blend the ricotta cheese in a blender with 3/4 of the parmesan cheese and the cream. Then proceed with a second round of blending, adding the 2 eggs and salt and pepper.
Place the mix in a round kitchen moulds, cook them in bain-marie in a glass cooking tray in the oven for 20 minutes at 170 degrees.
Cut the tomatoes in slices and place them on a baking tray with baking paper. Sprinkle them with breadcrumbs, olive oil, salt – add to the tray a couple garlic cloves and sprigs of marjoram for the seasoning.
Cook in the oven at 180 degrees for about 20 minutes.
Then blend the anchovies with sparkling water and olive oil – sparkling water is needed to maintain a clear colour in the sauce.
Serve the flan hot on top of the gratin tomatoes, with an abundant side of anchovy sauce and a final Double anchovy fillet on top as garnish.