Ingredients for 10 portions
Preparation time: 30 minutes
Recipe by GiadaeSara
tHE delicius PRODUCT
Rolled Anchovy Fillets with Pantelleria Capers in Olive Oil DOUBLE 90g
Take two Delicius anchovy fillets, the ones that are really the best. Roll them up together and you will discover DOUBLE, the new anchovy twice the size, and twice the taste.The centre of the rolled fillets is then enriched by a fantastic caper; only the best ones from Pantelleria are used in our products. Discover the exquisite balance of sweet and salty that will spread the scent of the ocean in your mouth.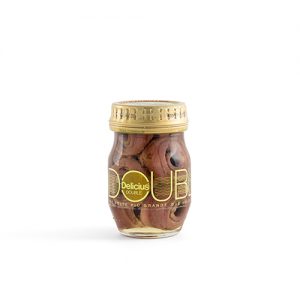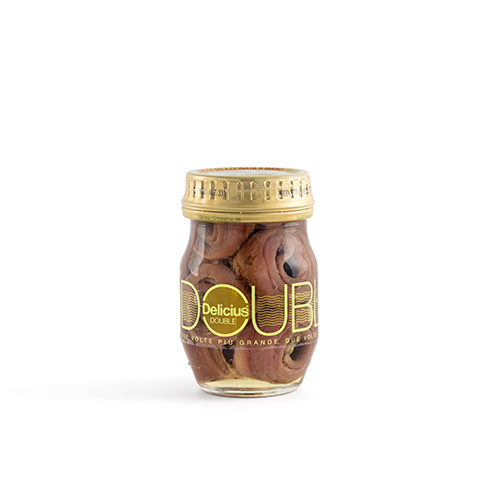 IngredientS FOR 10 PORTIONS
220g of type 0 flour
10g of yeast for savoury pies
Milk
Salt
50g of cold butter
1 spoon of dry thyme
For the filling:
10 Delicius Double anchovy fillets in olive oil
Soft butter or cream cheese
10 capers
Thyme
Pepper
Preparation 
In a bowl mix the flour, salt and yeast. Add the cold butter in small pieces and work the mixture with the tip of your fingers, until reaching a sandy mixture. Add milk slowly and keep working the dough until you've reached a compact paste. Cover it with cooking film and place it in the fridge for at least half an hour.
Stretch out the dough in a flat round layer of about 1,5 cm of thickness, then obtain from this 10 smaller round disks with a diameter of 6 cm more or less – use a glass or a cup.
Place the scones on a baking tray with cooking paper on the bottom and cook them in the preheated oven at 180°c for about 10/15 minutes. Remove them from the oven and let them cool. Cut each scone in half and fill it with cream cheese or soft (room temperature) butter. Garnish with a Delicius Double anchovy fillet and a caper.