Ingredients for 2 people
Preparation time: 25 minutes
the DELICIUS product
Rolled Anchovy Fillets in Spicy Sauce DOUBLE 60g
Take two Delicius anchovy fillets, the ones that are really the best. Roll them up together and you will discover DOUBLE, the new anchovy twice the size, and twice the taste. With the addition of our famous spicy sauce, a family secret recipe, it will then be impossible to open just one box. The DOUBLE anchovy fillets in spicy sauce are in our signature tin box. Discover a unique and appetising new taste.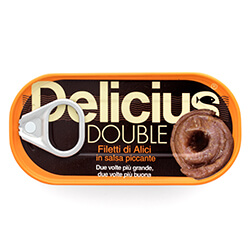 INGREDIENTs for 2 people
Delicius Double anchovy fillets in spicy sauce
Previously cooked fish
Boiled potatoes
Parsley
Half a garlic clove
Breadcrumbs
Eggs
Puntarelle (chicory hearts)
Lemon
Salt
Pepper
PREPARATION
Boil the potatoes, then use a knife to cut the previously cooked fish in small pieces. Mash the potatoes, add them to the pieces of fish and then add the parsley and garlic. Mix the ingredients thoroughly, then adjust with salt and pepper.
If necessary, add the breadcrumbs to make the mixture easier to work, but do not exaggerate
in order not to make it too dry, then form small fish balls and make them rest for some time in the fridge, so that they will harden a little.
Pass the fish balls lightly in a bowl where you will have mixed two eggs, then in the breadcrumbs. Fry them in a lot of seed oil.
Prepare a salad with thinly sliced chicory hearts (puntarelle), seasoned with olive oil, salt, pepper and lemon. Add to this salad a couple Delicius Double anchovy fillets in spicy sauce.
Serve the fish balls with a side of the puntarelle salad.