Ingredients for 3 bruschette
Preparation time: 30 min
DELICIUS PRODUCT
Mackerel Fillets in Olive Oil 125g. The excellent qualities of Delicius mackerel fillets and all their content of precious nutrients, safely and easily packed in our signature box that has become one of the brand's symbols over time. The must-have ingredient for a perfect salad.
The superior quality of Delicius products does not stop at anchovies. Discover the mackerel fillets and enjoy the taste of healthy and delicate fish.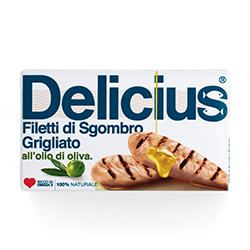 INGREDIENTS
Delicius mackerel fillets in olive oil 125g
Home made bread 6 slices
Olive oil
For "la Norma":
Grilled aubergines
Cherry tomatoes
Salted ricotta cheese
Basil
For "la Ligure":
Basil pesto
Boiled potatoes
Green bean
For "la Veneta"
Marinated red onion
Dried raisins
Cannellini beans
Preparation
Toast the bread on the grill
For "La norma"
Grill the aubergines and half cut the tomatoes, season the bread with the juice of the tomatoes and the oil, then add on top the grilled aubergines and some basil leaves.
Add some Delicius mackerel fillets in olive oil and complete with grated salted ricotta!
For "La Ligure"
Spread the pesto on the bread, add potatoes and green beans then complete with Delicius mackerel fillets in olive oil!
For "La Veneta"
Separate the rings of the onion and marinate them in water and vinegar for at least 1 hour, then tender the dried raisins in lukewarm water.
In the meanwhile press roughly with a spoon most the beans, then spread the cream on the bread and add the marinated onion and the raisins.