Recipe by  CottoalDente 
THE DELICIUS Product
Mackerel Fillets in Olive Oil 125g. The excellent qualities of Delicius mackerel fillets and all their content of precious nutrients, safely and easily packed in our signature box that has become one of the brand's symbols over time. The must-have ingredient for a perfect salad.
The superior quality of Delicius products does not stop at anchovies. Discover the mackerel fillets and enjoy the taste of healthy and delicate fish.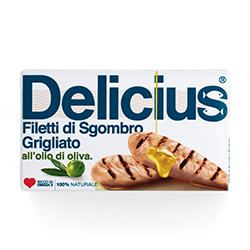 Ingredients
4 courgettes with squash blossoms
2 potatoes
1 leek
Half a spoon of turmeric
1 pack of Delicius Mackerel fillets in olive oil
Salt and pepper
Olive Oil
Preparation
Boil the potatoes in salted boiling water and once they are cooked and soft smash them with the potato masher. Put the mashed potatoes in a bowl and add the thined sliced leek, the turmeric, salt, pepper and the Delicius Mackerel fillets in olive oil.
Mix all the ingredients and fill the squash blossoms with the filling. Long-side cut the courgettes without removing the blossom.
Brush with olive oil and cook in the oven for 20/25 min at 180 degrees.