Ingredients for two people
Preparation time 30 min
THE DELICIUS PRODUCT
Mackerel Fillets in Olive Oil 125g. The excellent qualities of Delicius mackerel fillets and all their content of precious nutrients, safely and easily packed in our signature box that has become one of the brand's symbols over time. The must-have ingredient for a perfect salad.
The superior quality of Delicius products does not stop at anchovies. Discover the mackerel fillets and enjoy the taste of healthy and delicate fish.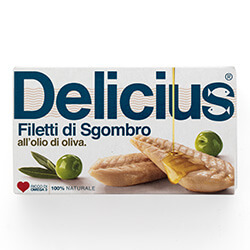 INGREDIENTS
Delicius mackerel fillets in olive oil 90g
Shell shaped pasta 150g
Cherry mozzarella 200g
Basil
Capers
Taggia olives 60g
Olive oil
Salt and Pepper
PREPARATION
Half cut the tomatoes and season them with oil and salt in order to obtain the juice to season the pasta and let them rest for around 30 minutes.
Cook the pasta "al dente" in salted boiling water when drain it and season it with some oil not to make it stick when it cools down and in the meanwhile remove the salt of the capers in the water.
Season the pasta with the tomatoes, the cherry mozzarella, the capers, the olives and the roughly cut basil.
Plate the pasta adding a Delicius mackerel fillets in olive oil.