Ingredients for 2 people
Preparation time: 30 minutes
THE DELICIUS PRODUCT
Sardine Fillets in Olive Oil 120g. Delicius also offers the filleted version of the highest quality sardines so that it is even easier to appreciate the taste of the sea, typical of the Sardina Pilchardus. The sardine fillets are also hand processed directly on fishing locations to guarantee the highest possible content of Omega 3 and to preserve the sardines's naturally exquisite taste.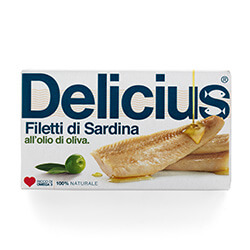 INGREDIENTS
3 boiled potatoes
90gr of Delicius Sardine fillets in olive oil
1 zucchini
1 egg white
100gr of burrata cheese
Bread crumbs
Parsley
Olive oil
Salt/Pepper
PREPARATION
Mash the boiled potatoes with a potato masher and mix it with the egg white, the chopped parsley and the breadcrumbs. Press the mix in a mold adding a sardine fillet, trying not to break it. Thus form two round shaped discs and cook them on both sides in a pan for 2 minutes.
Finally fill the toast with grilled zucchini and fresh burrata cheese.