THE DELICIUS PRODUCT
Rolled Anchovy Fillets with Chilli in Olive Oil DOUBLE 90g
Take two Delicius anchovy fillets, the ones that are really the best. Roll them up together and you will discover DOUBLE, the new anchovy twice the size, and twice the taste.With the spicy hint of the best chillies you will discover a determined taste that will make you regret not having come home earlier!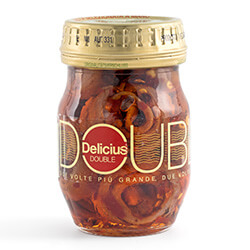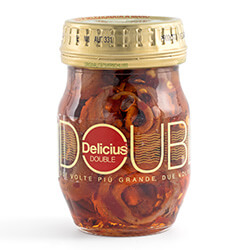 INGREDIENTS FOR 4 PEOPLE
Delicius Double anchovy fillets with chilli in olive oil or with capers
240g of spaghetti
2 sweet onions
4 sun-dried tomatoes
Extra virgin olive oil
Half a glass of white wine
1 tablespoon of Delicius anchovy paste
PREPARATION
Peel and slice 2 sweet onions, cook them in a pan, covered in water.
When the onions have absorbed the water, salt them lightly, then add 4 chopped sun-dried tomatoes, 4 spoons of extra virgin olive oil and make the ingredients sauté lightly together, slowly adding the half glass of white wine and adding a teaspoon of anchovy paste in the cooking liquid.
Boil 240g of spaghetti (or Italian spaghettoni) in hot salted water. When they are nearly ready drain them and add them to the pan with the onion cream. Serve them on single plates with a Delicius Double anchovy fillet with chilli in olive oil or with capers on top of each portion.