Musky octopus stuffed with anchovies, stewed
Ingredients for 2 people
Preparation time: 15 minutes + 35 minutes of cooking
Difficulty: Easy
THE DELICIUS PRODUCT
In padella, 7cm anchovies, with low oil content (75% less than the traditional glass jar). Less waste, best practicality and a maximum of usability of the fillets. 7cm is the perfect size to melt in the pan with vegetables or for special sauces!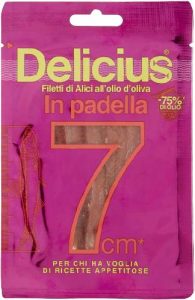 INGREDIENTS
For stuffed octopus:
Musky octopus, 500 g
Crumb of stale bread, 100 g
Milk (to taste)
Egg, 1
Parsley, 5 g
Alici Delicius No. 7, in the pan, 4-6
Garlic, ½ clove, minced
Lemon peel (to taste)
White wine, ½ glass
Salt
Pepper
Extra virgin olive oil
Toothpicks (to close the octopus)
For the stew:
Extra virgin olive oil
Tomato pulp, 200 g
Garlic, 1 clove
Parsley (to taste)
PREPARATION
First of all, carefully clean, wash and dry the musky octopus. Put the crumb of the bread in the milk, then squeeze it well. Cut the anchovies Delicius No. 7 into the pan with a knife and add them to the bread. Incorporate a beaten egg, chopped parsley, chopped garlic and lemon zest. Add a drizzle of oil, season with pepper and fill the musky octopus (if the dough is easily handled with the help of little breadcrumbs). Close the musky octopus with one or two toothpicks. In a saucepan brown a garlic clove and then add octopus. Dry off with white wine, let it evaporate, then add the tomato pulp.  Salt, pepper, cover with lid and cook for 25 minutes. Serve hot with a slice of toasted bread.