Ingredients for 2 people
Preparation time: 40 minutes
THE DELICIUS product
Rolled Anchovy Fillets in Olive Oil DOUBLE 90g. Take two Delicius anchovy fillets, the ones that are really the best. Roll them up together and you will discover DOUBLE, the new anchovy twice the size, and twice the taste. In the classic glass jar they really seem huge, and they are. Hugely marvelous.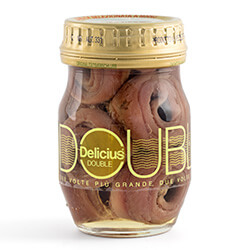 INGREDIENTs
For the dough
1/5 kg of potatoes
100gr of flour
50gr of durum wheat flour
For the filling
150gr of Mozzarella fiordilatte
Delicius DOUBLE anchovy fillets (one for each gnocco)
For the sauce
1 garlic clove
150ml of Tomato sauce
Basil
Salt/Pepper
Oil
PReparation
Boil and smash the potatoes, mix them with the sifted flours, obtain a dense dough. 
Split it in regular portions with your hands (
we suggest you create bigger parts in order to have 4/5 gnocchi per person).
 Flatten the center of each portion and place the filling in each part: fill with the mozzarella and the Double Anchovy fillets, then close it using your fingers to stick the borders firmly.
In the meantime sauté the garlic clove in a pan, add the tomato sauce, cook for 10 minutes and adjust the flavor adding salt, pepper and basil.
Delicately put the gnocchi into boiling salted water (make sure they don't open), then drain them and put them in the pan with the tomato sauce. Serve them hot!