Ingredients for 2 Calzoni
Preparation Time: 40 minutes + 2 hours for the dough
the DELICIUS product
Anchovy Fillets in Olive Oil 150g. A bigger jar, that maintains its traditional look. It contains the best quality anchovies, the Delicius anchovies, carefully cured, filleted and packed by hand, with the same care and love that has distinguished our work over the years. Discover the genuine taste of tradition. The glass jar can't lie.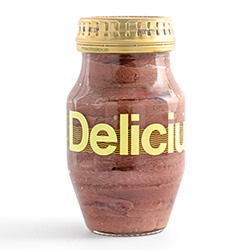 INGREDIENTs foR 2 CALZONI
For the dough:
500g type 0 Flour
300 ml Water
25g of brewer's yeast
10g of salt
1 pinch of sugar
30g of EVO oil
For the stuffing:
10 Delicius anchovy Fillets
500g of beets
150g of fiordilatte Mozzarella cheese
80g of unpitted Taggiasche olives
1 Garlic clove
2 spoons of capers
PReparation
Dose all the ingredients and prepare them on a pastry board: dissolve the yeast in lukewarm water, and add it to the flour, previously poured into a large bowl – start kneading; add the salt and continue to knead until the water runs out. Then add the oil and continue to knead, bringing the dough on the work surface and until it becomes smooth and compact.
Put the dough in a bowl, cover with film and leave to rise for at least 2 hours or until it has grown to double its volume.
Cut the beets into coarse pieces and boil them in boiling salted water for about 10 minutes. In the meantime prepare a sauté in a pan with a tablespoon of EVO oil and a garlic clove, add capers and olives. Then add the boiled beets, leaving them to flavor for a few minutes.
Divide the dough and lay it down in circles of about 25 cm in diameter. Add the beets on half the surface of the disc; complete with a few mozzarella pieces and anchovies, then close the dough by folding it on itself. Fold the edge and crush with a fork; lightly prick the surface and bake at 240° in a static oven for about 12-15 minutes.