Ingredients for 2 people
Preparation Time: 30 minutes + dough preparation time
the DELICIUS product
Open our signature tin box of Delicius anchovies in olive oil and discover the genuine taste of tradition. Only the highest quality fish is selected, then skilfully salted and let to rest for months and months in barrels, until it is perfect. It is then transformed into our fleshy fillets with a soft and determined taste. All the experience and the wise practice of entire generations has been translated in such a simple yet tasty food. An authentic recipe that will make you discover the real and full taste of an anchovy. A product of extremely high quality and delicious pleasure.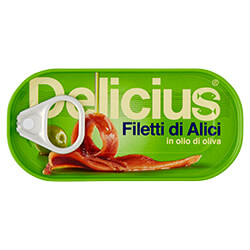 Ingredients
For the fresh dough:
300 gr of flour
3 eggs
For the filling:
100 gr of Buffalo Ricotta cheese
60 gr of grated parmesan cheese
two boiled garlic cloves
6 Delicius anchovy fillets in olive oil
2 slices of casserole bread softened in vinegar
1 hard boiled egg yolk
150-200 gr of fresh Parsley
PReparation
Create a little mountain with the flour, break the eggs in the center and start kneading, adding the flour slowly, continue until the dough becomes smooth and compact. Put it in the fridge and let it rest and rise for at least 30 minutes before kneading it again.
For the filling start whipping all the ingredients except the Ricotta cheese with an immersion mixer, if the mix becomes too liquid add another slice of bread or another yolk of hard boiled egg, then add the ricotta cheese and the parmesan cheese, salt and pepper.
Then lay down the dough with the pasta machine (the thickness should be around 1mm), then cut enough dough to form the Ravioli: place a spoon of filling in the center, close each Raviolo and delicately wet the borders with water or beaten egg to close securely in a pyramid shape.
In the meanwhile julienne cut the leek, cover it with rice flour and fry it in oil (making sure the oil is not too hot).
Boil the ravioli for 3-4 minutes and saute' them in a pan with butter, then serve them with melted butter, complete with a garnish of fried leek!