Ingredients for 2 people
Preparation time: 30 minutes
the DELICIUS product
Mackerel fillets are even more tasty as they have been lightly grilled. The same quality fish, healthiness and impeccable processing of our mackerel fillets, with a different taste. The result has conquered even those who considered mackerel too weak in taste. A very successful innovation.
The superior quality of Delicius products does not stop at anchovies. Discover the mackerel fillets and enjoy the taste of healthy and delicate fish. The grilled version is even more of a surprise and will give your recipes an unusual and pleasant turn.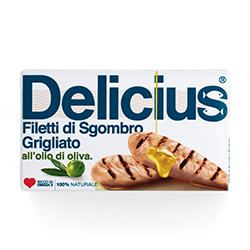 Ingredients for 2 people
1 pack of Delicius Grilled mackerel in olive oil
120g of Mixed salad
80g of purple cabbage
40g of dried raisin
80g of mixed colored tomatoes
40g of pecan nuts
1 Pink grapefruit
Sesame seed Oil
Wasabi
2 tablespoons of Yoghurt
salt
PReparation
Roughly chop the garlic clove and the anchovies, then make them sauté in a pan with a little EVO oil, add the plum tomatoes cut in halves and immediately add salt so that they will loose their water in the pan.
Add one ladle of water and cook for 10 minutes, then add the chopped basil leaves and the grated lemon zest from a whole lemon.
Cook the spaghetti "al dente" in boiling salted water, drain them in the pan with the sauce and complete the cooking, creaming with olive oil. Serve as a nest and garnish with some basil leaves and more lemon zest.