It's this time of the year, autumn has arrived and the first chilled days begin to make their way towards us. This often brings along that feeling of tiredness and slight melancholy; and leaves us wandering how to deal at best with the season changing, with no flue and no weariness. Fixing your diet can definitely be a great support. Prefer seasonal products when eating and you'll see just how fast your body will adapt to the new season!

Autumn offers us very nutritious foods, real proper superfoods! There are so many delicacies such as grapes, chestnuts, pears and pomegranates. As far as vegetables are concerned, the vegetable garden delivers cabbage, radish, beetroot, spinach and pumpkin, which are real vitamins bombs.

Delicius has always offered recipes in which anchovies, sardines and mackerels are neatly matched with seasonal foods, to make full healthy meals for a balanced and very tasty diet.

Here's a quick review of the major seasonal foods and their health benefits:
Beets and spinach: excellent antioxidants, they contain potassium and iron, and have diuretic properties.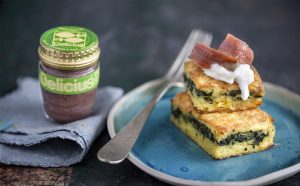 Savoy Cabbage: anti-inflammatory properties, contains vitamin A and vitamin C.
Cabbages: rich in fiber, calcium and essential fatty acids. They are a source of antioxidants and natural enzymes. Friendly to the heart and support for arthritis
Topinambur: Similar to potatoes but with lower glycemic index, rich in fiber. 
Carrots:  Antioxidant, good for the skin and eyes as they are rich in flavonoids and vitamins.
Pumpkin: low in calories, it is a source of both vitamin A and Omega 3 fatty acids. Its pulp is also rich in antioxidants and carotenoids.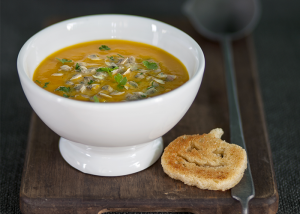 Mushrooms: An amazing source of mineral salts such as potassium, phosphorus, copper and selenium and also famous for their power to strengthen the immune system.
Artichokes: liver protectors, low caloric intake and they are rich in minerals.
Fennels: rich in water, poor in calories and known for their aromatic and digestive properties.
Onions: in addition to being an indispensable vegetable in the kitchen, they have important therapeutic properties: onions support in fighting bloating and water retention.
Potatoes: rich in complex carbohydrates, potatoes are the basis to many recipes in the kitchen and have many beneficial properties.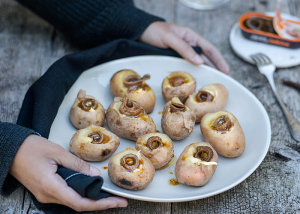 Apples, pears and quince apples: seasonal fruits, rich in vitamins and fibres that help the function of our intestines.
Grapes: rich in natural antioxidants that protect the skin and entire body from aging. Black grapes are very rich in polyphenols that promote circulation.
Pomegranate: source of antioxidants and mineral salts such as manganese, potassium, zinc, copper and phosphorus. The composition of this precious fruit is completed with water, sugars and fibers.
Chestnuts: an important source of mineral salts, contain 7% protein, 9% lipids and 84% carbohydrates. Without cholesterol.