Ingredients for 1 serving
Preparation time: 15 minutes
THE DELICIUS PRODUCT
Mackerel Fillets with Chilli in Olive Oil 125g.
Chilli peppers add a determined touch to the Delicius mackerel fillets, making them even more appealing and precious.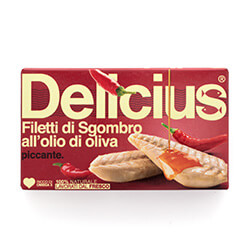 INGREDIENTS FOR 1 SERVING:
Delicius Mackerel fillets in olive oil with chilli
Iceberg lettuce
Bacon
Grana Padano cheese
Sliced white bread
Mayonnaise
Mustard
PREPARATION
Cut the white sliced bread in small square pieces, you will need to make croutons! Put the pieces in a pan and add salt and oil, sauté them until they become golden and crunchy croutons.
Then cook 3 slices of bacon until crispy in a pan with olive oil. Once it is cooked, dry it with kitchen paper, absorbing the excess oil, and cut the slices in small thin pieces.
Thinly cut the iceberg lettuce and season it according to preference with oil, salt and pepper.
Create a sauce by mixing together a bit of mayonnaise, a bit of mustard and oil from the mackerel fillets.
Cut some pieces of Grana Padano cheese to add to the salad.
Finally compose the Delicius salad by putting together all the elements and adding the mackerel fillets on top. Complete with a topping of the sauce.