Ingredients for 4 people
Preparation time: 40 minutes
Recipe by Cotto al Dente
the delicius product
Rolled Anchovy Fillets in Olive Oil DOUBLE 90g.
 Take two Delicius anchovy fillets, the ones that are really the best. Roll them up together and you will discover DOUBLE, the new anchovy twice the size, and twice the taste.In the classic glass jar they really seem huge, and they are. Hugely marvelous.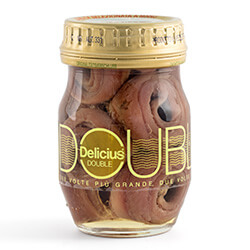 ingredientS FOR 4 peOPLe
1 jar of Delicius Double Anchovies in olive oil
350 g of rice
200 ml of coconut milk
4 tablespoons of anchovy oil
Half an onion
Extra virgin olive oil
1 lime
1 litre of boiled salted water
1 coconut
PREPARATION
Thinly chop the onion and make it sauté in a pan with extra virgin olive oil (thus creating the classical risotto "soffritto" preparation).
When the onion has softened add the rice and make it toast for a couple of minutes. Then start adding the boiled salted water until 3/4 of cooking time.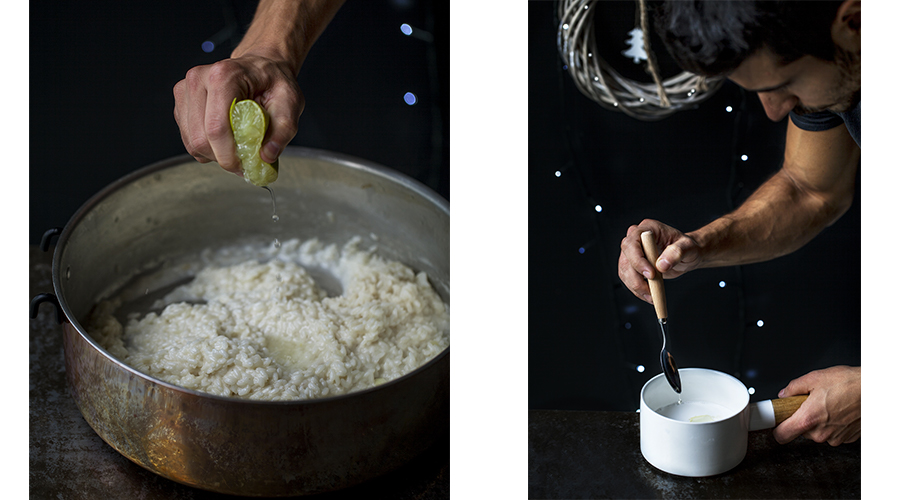 In the meantime put together the coconut milk with the oil from the anchovies (in the jar) and mix thoroughly.
Add the "corrected" coconut milk/oil to the rice and finish cooking. Then remove the pan from the stove and proceed in creaming the rice with the juice from half a lime and a couple tablespoons of oil.
Serve the risotto in a cut coconut and complete with a Delicius Double rolled anchovy fillet on top and a decoration of grated lime skin.