Ingredients for 4 people
Preparation Time: 40 minutes
THE DELICIUS product
Anchovy Fillets in Sunflower Oil 58g.
The excellence of Delicius anchovies, processed according to our traditional Italian methods, also in this version with sunflower oil. Only the highest quality fish is selected, then skilfully salted and let to rest for months and months in wooden barrels, until it is perfect. It is then transformed into our fillets with a soft and determined taste. All the experience and the wise practice of entire generations has been translated in such a simple yet tasty food. An authentic recipe that will make you discover the real and full taste of an anchovy. A product of extremely high quality and delicious pleasure. Look for the green product label and let yet another Delicius product surprise you with its taste.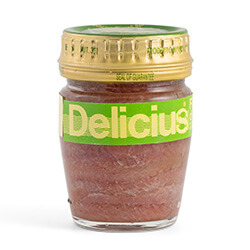 INGREDIENTs for 4 PEople
1 Delicius Anchovy fillet in Sunflower Oil
2 big boiled potatoes
Beet tops or similar vegetables
1 garlic clove
150 g of Stracciatella Cheese
30 g of Parmesan Cheese
1 egg
20 g of butter
Salt
Ground pepper at the moment
PREPARATION
Wash the beet tops, cut them into strips, sauté them in a pan with a garlic clove and 2 tablespoons of oil, then cover the pot until they deflate. Then remove the lid and let the water from the vegetable and oil evaporate, with a lively fire. Peel and crush the potatoes, then drain the cream from the stracciatella cheese and add it to the potatoes with a previously beaten egg and grated Parmesan cheese. Then adjust with salt and pepper. Butter 4 rings or 4 metal rectangles, and place them over baking paper in a baking tray. Then start filling them in layers: begin with a layer of mashed potatoes, a layer of vegetables and then finish with a layer of the remaining potatoes. Press each gateau firmly, then add some of the remaining butter on top and cook them in the oven at 180 ° for 20 minutes.
Serve warm with a topping of stracciatella cheese and a well-drained Anchovy fillet in Sunflower oil.