THE DELICIUS PRODUCT
Anchovy Paste with Olive Oil 'Gusto CLASSICO' 60g
The extraordinary taste of the authentic Delicius Anchovies in a practical and convenient packaging. The Delicius anchovy paste is prepared with the same salted anchovies used in the making of our fillets. The creation of our anchovy paste comes from a family recipe that has maintained its classic preparation as years have passed. Only salted anchovies, oil and salt for a traditional version which can be used in many  tasty ways.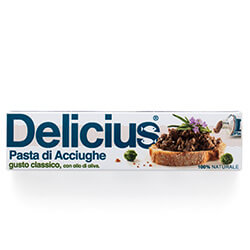 INGREDIENTS FOR 6 PEOPLE
1 pack of Delicius anchovy paste with olive oil "Gusto Classico" 60g
2 packs of rectangular puff pastry 
PREPARATION
Lay down the two rectangular puff pastry sheets. Brush the first one with a light layer of water. Then lay down on the pastry various thin lines of anchovy paste, each at the same distance one from the other. Delicately place the second puff pastry sheet on top of the first one, so that the anchovy paste remains in the middle between the two layers. Press 
firmly between each strip of anchovy paste and the other, making the two layers stick together. 
Mix an egg yolk with a couple drops of fresh cream. Brush the surface of the pastry twice with this mix. 
Place the preparation in the fridge for about 15 minutes, then cut the puff pastry sticks, making them about 1 finger thick. 
Then transfer the pastry sticks on a baking tray and cook at 220 degrees for about 5 minutes. Lower the temperature to 200 degrees and cook for another 8 minutes, protecting the top layer of the pastry with cooking paper in case it gets too dark and could burn. 
Serve warm or at room temperature.