THE DELICIUS PRODUCT
Mackerel Fillets in Olive Oil 250g.
Mackerel is very rich in Omega 3, essential nutrients that are very important for the correct functioning of the cardiovascular system. Delicius selects the soft and tasty Scomber Japonicus Colias and hand processes then directly on fishing locations tu ensure the maximum content of Omega 3. In this jar you can appreciate the perfect quality of the Delicius mackerel fillets.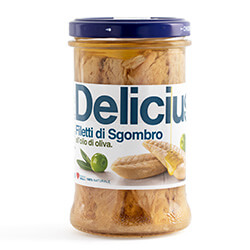 INGREDIENTS FOR 4 PEOPLE
2 Eggplants (a black and a purple one)
1 big onion
1 garlic clove
1 celery heart
200g of tomato sauce
100g of Gaeta olives
250g of mackerel fillets in olive oil (or in brine)
4/5 tablespoons of white wine vinegar
2 tablespoons of sugar
fresh oregano
extra virgin olive oil
salt
bread croutons
PREPARATION
Cut the eggplants in dices, add salt, and let them rest in a small colander for 20 minutes. Then wash them and dry them well with a cloth. Warm a half cup of olive oil in a nonstick pan, then add the eggplants and let them cook until they are slightly roasted and golden. Drain them from the oil and adjust with salt again.
Roughly chop the onion and make it sauté in the pan with oil and the garlic clove. Then add the celery cut in pieces and let it cook with the onion for no more than 5 minutes. Cover with the tablespoons of sugar and add the vinegar. Then also add the tomato sauce and cook for another 15 minutes with the pan nearly fully covered. Add the well drained eggplants, the olives and cook for an extra 10 minutes.
Finally flavour with the fresh oregano leaves and let the caponata cool before adding the mackerel fillets. The mackerel will previously have to be cut in big chunks. Serve the Caponata cool (preferably after having it put a couple hours in the fridge), with hot toasted bread croutons.