THE DELICIUS PRODUCT
Rolled Anchovy Fillets with Chilli in Olive Oil DOUBLE 90g
Take two Delicius anchovy fillets, the ones that are really the best. Roll them up together and you will discover DOUBLE, the new anchovy twice the size, and twice the taste.With the spicy hint of the best chillies you will discover a determined taste that will make you regret not having come home earlier!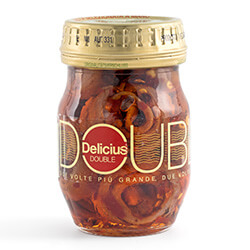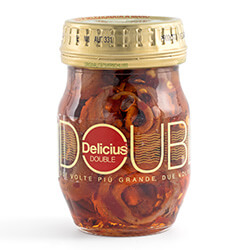 INGREDIENTS FOR 4 PEOPLE
4 Delicius Double rolled anchovy fillets in olive oil with chilli
250g of broccoli
2 eggs
Half dl of fresh cream
2 tablespoons of grated pecorino cheese
Dry chilli pepper
White wine
Extra virgin olive oil
Salt
Pepper
Butter
PREPARATION
Boil 250g of broccoli, then drain them and blend them with the eggs and the fresh cream to obtain a creamy mix. Season with salt, pepper and 2 tablespoons of grated pecorino cheese.
Butter all sides of 4 small cooking stamps, then pour the preparation in them. Cook in the oven in bain-marie for 30 minutes at 180 degrees C.
Remove from the oven the flans and serve them warm with a rolled Double anchovy fillet in olive oil with chilli on top. Add a sprinkle of dry chilli on top and a couple drops of extra virgin olive oil.