Ingredients for 1 portion
Preparation time: 30 minutes
The DELICIUS product
Rolled Anchovy Fillets in Spicy Sauce DOUBLE 60g 
Take two Delicius anchovy fillets, the ones that are really the best. Roll them up together and you will discover DOUBLE, the new anchovy twice the size, and twice the taste. With the addition of our famous spicy sauce, a family secret recipe, it will then be impossible to open just one box. The DOUBLE anchovy fillets in spicy sauce are in our signature tin box. Discover a unique and appetising new taste.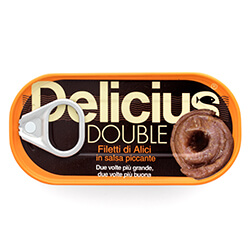 INGREDIENTs for 1 person
1 tin of Delicius Double anchovies in spicy sauce
150 g Fresh salmon
1 Hambuger sandwich
100 g Cabbage
1 Carrot
1 Egg
100 ml Seed Oil
Chives
Bread crumbs
Garlic
Salt

PrEPARATION
In a blender mix 1 egg yolk and 2 anchovies with a bit of their spicy sauce;
Start blending and then slowly add the vegetable oil until the mayonnaise is formed;
Start cutting the salmon, at first into cubes and then chop it as a tartare;
Toast the bread crumbs in a frying pan with a drop of olive oil and two garlic cloves;
Add the bread crumbs to the salmon tartare, then also add the finely chopped chives;
Conclude mixing the salmon with a little salt and a little pepper;
Form the salmon hamburgers  and cook them in a pan with oil;
While the salmon is cooking, cut the cabbage very finely and the carrot in thin ribbons with a potato peeler;
Cut the bread in halves and spread the spicy anchovy mayonnaise on it;
Add the cabbage and carrot strips on top of the mayonnaise, then finally place the salmon burger on top too;
Finish with extra mayonnaise and a sprinkle of chopped chives. Serve with a side of chips.