Ingredients for 2 people
Preparation Time: 60 minutes
the DELICIUS product
Anchovy fillets in spicy sauce 50g. Open our signature tin box of Delicius anchovies in spicy sauce and discover a unique and appetising new taste. All the experience and the wise practice of entire generations has brought to the creation of a secret recipe for this special and tasty sauce. A product of extremely high quality.
An explosive pleasure which you will learn to love. A family secret that has never been revealed!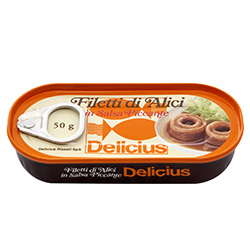 INGREDIENTs for 2 PEople
12 Delicius Anchovy Fillets in spicy sauce
Pizza dough
Tomato sauce
Turnip greens
6 small buffalo mozzarellas
1 tablespoon of breadcrumbs
Extra virgin olive oil
Salt
PREPARAtion
Roll out the dough into a round pizza tray, previously well oiled. 
Simply season with a thin layer of tomato sauce, a pinch of salt and a drizzle of oil. Put it in the preheated oven at 200 degrees for about 40 minutes. Towards the end of cooking add the turnip greens (previously sautéed with garlic), the anchovy fillets and the buffalo mozzarellas cut in halves.