Ingredients for 4 people
Preparation Time: 90 minutes
the DELICIUS product
Anchovy Fillets in Olive Oil 150g. A bigger jar, that maintains its traditional look. It contains the best quality anchovies, the Delicius anchovies, carefully cured, filleted and packed by hand, with the same care and love that has distinguished our work over the years. Discover the genuine taste of tradition. The glass jar can't lie.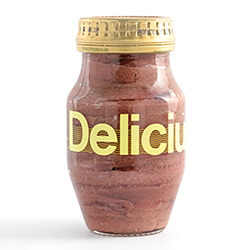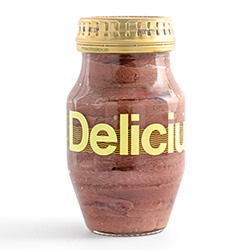 INGREDIENTs foR 4 PEople
8-12 Delicius Anchovies in olive oil
180g of boiled potatoes
50g of butter at room temperature
4 eggs
1.5dl of fresh cream
50g of flour
200g of fresh goat cheese
Milk
Thyme for garnish
Salt
Fresh ground pepper
PREPARAtion
Crush the potatoes while they are still hot. With the electric whisk, whisk the butter with the egg yolks until they are foamy, very slowly add the liquid fresh cream and the crushed potatoes. Add the sifted flour, adjust with salt and add the whipped up egg whites. Pour the preparation into a square baking tray, lined with baking paper and well-buttered. Bake at 180 degrees for about 45 minutes. Let it cool slightly before unmolding the cake. In the meantime, melt the goat cheese with a few tablespoons of milk. Cut the cake into small squares (one per serving), cover each one with the goat cheese cream and garnish with half an anchovy fillet on top and the thyme sprigs.