Ingredients for 2 people
Preparation time 30 minutes
The delicius product
In padella, 7cm anchovies, with low oil content (75% less than the traditional glass jar). Less waste, best practicality and a maximum of usability of the fillets. 7cm is the perfect size to melt in the pan with vegetables or for special sauces!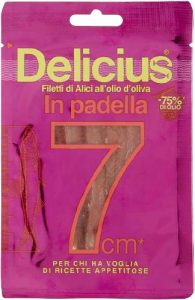 ingredients
4 Delicius anchovy fillets with low oil content 7cm – In padella
8 paccheri pasta
100 g of Ricotta cheese
2 basil leaves
1 egg
60 g of bread crumbs
Frying oil
Flour
For the mayonnaise in the mixer
1 egg
220 g of seed oil
15 g of lemon juice
10 g concentrate tomato juice
Salt
preparation
Boil the paccheri pasta "al dente" in abundant salted water and then let them cool down.
In the meantime prepare the filling by mixing the ricotta cheese, the basil, the Delicius anchovies, salt, pepper and a tablespoon of bread crumbs, then put the mix in a sac-à-Poche and fill the paccheri with it and cover them with some flour, removing the excess.
Pass them in a bowl with the beaten egg and then in the bread crumbs, then let them rest in the fridge for 15 minutes.
In the meantime prepare the mayonnaise with the mixer putting all the ingredients inside until obtaining a smooth sauce.
Heat the oil and fry the Paccheri in abundant seed oil and serve hot with a side of tomato mayonnaise.