Ingredients for 2 people
Preparation time: 30 minutes
THE DELICIUS PRODUCT
Open our signature tin box of Delicius anchovies in olive oil and discover the genuine taste of tradition. Only the highest quality fish is selected, then skilfully salted and let to rest for months and months in barrels, until it is perfect. It is then transformed into our fleshy fillets with a soft and determined taste. All the experience and the wise practice of entire generations has been translated in such a simple yet tasty food. An authentic recipe that will make you discover the real and full taste of an anchovy. A product of extremely high quality and delicious pleasure.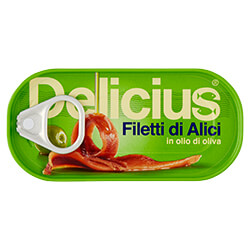 INGREDIENTS
60gr of Parsley
4 – 6 Delicius Anchovy Fillets in Olive Oil 46g
POwdered Mild chilli pepper
Lemon zest
1 sautéed garlic clove
Extra virgin olive oil
Salt/Pepper
180 gr of Spaghetti
PREPARATION
Boil the parsley in hot water for 10-15 seconds, then cool it down immediately in a bowl with water and ice cubes, then put it in a mixer with the previously boiled garlic clove, extra virgin olive oil, salt and pepper. Then filter the sauce in a small colander and keep aside.
Cut the Delicius anchovies in small pieces, meanwhile boil the spaghetti until firm ("al dente").
Put the parsley sauce in a pan and heat it, then drain the spaghetti in the pan and mix thoroughly. Use a ladle of cooking water if necessary. Remove the heat and add the Delicius anchovies .
Serve the spaghetti as a nest and complete with a whole Delicius anchovy on top and some powdered chilli pepper, then garnish with some grated lemon zest.