Ingredients for 4 people
Preparation Time: 30 minutes
GiadaeSara Recipe
the DELICIUS product
Rolled Anchovy Fillets in Olive Oil DOUBLE 90g. Take two Delicius anchovy fillets, the ones that are really the best. Roll them up together and you will discover DOUBLE, the new anchovy twice the size, and twice the taste. In the classic glass jar they really seem huge, and they are. Hugely marvelous.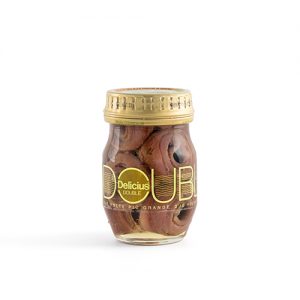 INGREDIENTs for 4 PEople
About 25/30 Delicius Double anchovy fillets in olive oil 
250g of stone-ground cornmeal (plus two handfuls for breading)
1 lt of water
1 tablespoon of extra virgin olive oil
Peanut oil for frying
Salt
Preparation
Prepare the polenta: If you use the stone-ground corn flour, bring the water to boil first; when it touches the boiling point, add the salt and cornmeal slowly, stirring with a whisk and then with a wooden spoon. Always cook stirring for about two hours. When cooked, add the extra virgin olive oil.
If you use instant polenta instead, prepare it following the instructions on the package.
Once the polenta is cold and very firm, obtain a some round balls (about 25/30), a little bigger than a nut, and incorporate in each one a Double Anchovy fillet either in olive oil or rolled with a caper. Pass the round balls in corn flour. In a small pan start warming the seed oil. When it is hot, dip 4 or 5 croquettes at a time and fry them until they are golden. Drain well and lay them on kitchen paper to rest. Serve hot.