Ingredients for 2 people
Preparation Time: 20 minutes
the Delicius product
Rolled Anchovy Fillets in Olive Oil DOUBLE 90g. Take two Delicius anchovy fillets, the ones that are really the best. Roll them up together and you will discover DOUBLE, the new anchovy twice the size, and twice the taste.In the classic glass jar they really seem huge, and they are. Hugely marvelous..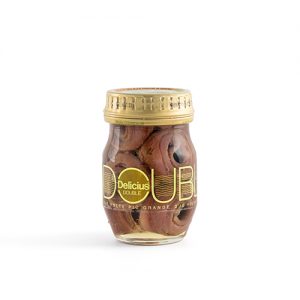 INGREDIENTs foR 2 PEople
1 jar of Delicius Double Anchovies
200 g Decorticated barley
250 g of plum tomatoes
Marjoram
Lemon
Extra virgin olive oil
Salt
Sugar
Thyme
60 g of Parmesan cheese
Butter
1 onion
Vegetable broth
PReparation
Cut the plum tomatoes in halves, place them on a baking tray with baking paper, the cut side facing up. Sprinkle them with oil, salt, sugar, lemon zest and marjoram. Bake at 150 degrees for about 1 hour. Cook the orzotto (barley): start by sautéing in a pan the butter and the chopped onion, add the barley and make it toast as if it were rice, then wet it with hot vegetable broth (or salted boiling water) and cook for 20-25 minutes. Meanwhile, blend the oven cooked tomatoes in a blender in order to obtain a smooth cream. Cream up the orzotto with the Parmesan cheese, the olive oil, the cream of tomatoes and herbs (according to personal taste).  Serve the orzotto and lay the rolled anchovies on top as garnish and extra taste! Complete with thyme leaves to decorate.