Ingredients for 2 people
Preparation time: 30 minutes
the delicius product
Anchovy Fillets in Olive Oil 90g. Slowly open the lid and discover the genuine taste of tradition. Only the best quality fish is selected by Delicius, skilfully salted and let to rest for months and months, until it is perfect. All the experience and the wise practice of entire generations has been translated in such a simple yet tasty food. An authentic recipe that will make you discover the real and full taste of an anchovy. The glass jar can't lie.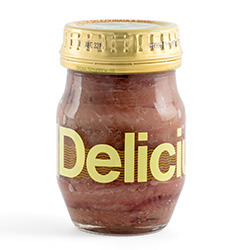 ingredients for 2 people
3-4 Delicius Anchovy Fillets in Olive oil
300g of Gnocchi
1 whole cauliflower
100g of breadcrumbs
3-4 garlic cloves
150g of grated parmesan cheese
50g of smoked scamorza cheese
50ml of milk (optional)
Preparation
Boil the cauliflower (cut in smaller pieces) for about 3 minutes and Mix the garlic cloves with the anchovy fillets (finely chopped) and abundant olive oil in a bowl so that they combine flavours.
Then put them in a pan and let the anchovies slowly melt while cooking with a slow fire; Sauté the breadcrumbs with the preparation in the pan, until it is golden and crispy.
Boil the gnocchi in salted water, drain them as soon as they come to the surface of the pan
Put the gnocchi in an oven bowl and then add the cauliflower, the seasoned breadcrumbs, olive oil, salt, pepper and some parmesan cheese.
Then add the scamorza cheese cut in pieces and sprinkle some more parmesan cheese on top;
Add half a cup of milk, this will make the preparation more creamy once it is heated in the oven
Put in the oven until the cheese is completely melted and golden.
Enjoy!