Ingredients for 2 people
Preparation time: 50 minuts
the DELICIUS product
Rolled Anchovy Fillets with Chilli in Olive Oil DOUBLE 90g
Take two Delicius anchovy fillets, the ones that are really the best. Roll them up together and you will discover DOUBLE, the new anchovy twice the size, and twice the taste.With the spicy hint of the best chillies you will discover a determined taste that will make you regret not having come home earlier!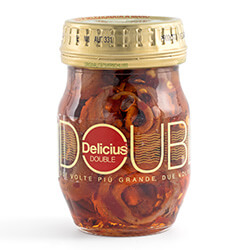 INGREDIENTs FOR TWO PEOPLE
1 jar of Delicius Double anchovies in olive oil with chili
3 Medium sized potatoes
70 g Butter
1 Lemon
Flour
Garlic
Parsley
Salt
PREPARATION
Put the potatoes in a cooking pot with cold water, then heat and bring them to boil;
When the potatoes are still hot, peel them and crush them with a potato masher, then add a pinch of salt;
Add flour to the mashed potatoes and start kneading, once the ingredients are well combined start forming long thin rolls and cut them into small pieces, thus forming the Gnocchi;
Pass the gnocchi on the appropriate object to give it the typical shape on one side;
Melt the butter in a pan, then add the garlic and anchovies with chilli;
While the butter and anchovies are cooking, add some thin cuts of lemon skin; Cook the gnocchi in boiling water with a little salt;
Once the gnocchi are ready, they will rise to the surface of the pan. Drain them and add them to the butter sauce;  add cooking water if necessary; Serve the gnocchi in a plate with a hint of grated parmesan cheese, grated lemon skin and some parsley.