Spaghetti pasta with mackerel fillets, olives, capers, raisins, pine nuts and fennel
Ingredients for 2 people
Preparation time: 30 minutes
Difficulty: Easy
THE DELICIUS PRODUCT
Grilled mackerel fillets in olive oil, 110gr. Just perfect for those who prefer the intense and peculiar taste of blue fish, the tender fillets of Delicius grilled mackerel are sourced from the precious Scomber japonicus species. As usual, they are carefully hand cleaned and filleted and then flavoured by the skilful grilling. Eating mackerel is good for your health because they are particularly rich in Omega 3. Light grilling makes their taste even better.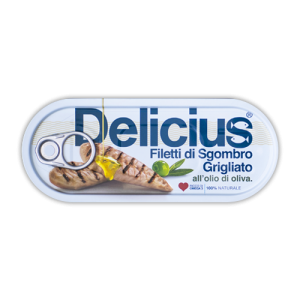 INGREDIENTS
Delicius Grilled mackerel fillets in olive oil, 85g
Delicius anchovy fillets, 1
Spaghettoni pasta, 200 g
Garlic, 1 clove
Taggiasche olives, 40 g
Capers, 4, chopped
Sultanine grapes, 20-25 g
Pine nuts, 20 g
Fennel, 5 g
Extra virgin olive oil
White wine, 1/2 cup
Salt/Pepper
PREPARATION
Chop the capers and the anchovies and soak the sultanine grapes in warm water for 5 minutes. Cook the pasta "al dente". In the pan brown the dressed garlic clove and crush it with a drizzle of oil then add the chopped capers and the anchovies. Add the mackerel filets, the olives, the sultanines grapes and the pine nuts and let it rest to flavor for a few minutes. Add the white wine, make it evaporate and then season with salt and pepper; Wet with a ladle of cooking water than add the spaghetti. Drain the spaghetti "al dente" and finish cooking it in the pan. At last add the finely chopped fennel, stir with Extra virgin olive oil and pepper. Plate the spaghettoni with the sauce and enjoy it!