Ingredients for 4 people
Preparation time: 40 minutes + dough preparation time
the DELICIUS product
The excellent qualities of Delicius mackerel fillets and all their content of precious nutrients, with the natural light preserving technique: only water and salt. Less calories, but with all the taste of healthy and delicate fish.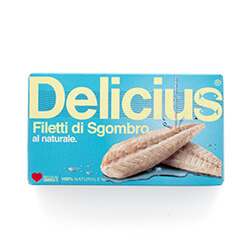 Ingredients for 4 people
For the dough
300 gr of durum wheat semolina
200 gr of flour
3 eggs
2 egg yolks

For the sauce
2x125g of Delicius Mackerel fillets in brine
20 small cherry tomatoes
7-8 salted capers
100gr of Taggiasche olives 
2 garlic cloves
Oregano
Chilli pepper
PReparation
Create a little mountain with the flour, break the eggs in the center, mix with a fork and start kneading, adding the flour slowly.
When the dough becomes smooth and compact let it rest and rise in the fridge for at least 30 minutes, covered with plastic film, then roll it out, not too thin, and cut it slightly bigger than the "chitarra" we are using, spread out the dough over the floured "chitarra" and press strongly with the rolling pin in order to create the spaghetti.
In the meanwhile make the garlic cloves sauté with the chili pepper in the pan, add the tomatoes, capers and olives, add salt, a little cooking water and cook slowly for 10-15 minutes.
At the end add the Delicius Mackerel fillets, in order not to ruin them.
Drain the spaghetti al dente in the pan with the sauce and add olive oil and oregano. Create a nest with the spaghetti to serve them neatly and hot!