Ingredients for 2 people
Preparation time 30 minutes
THE DELICIUS PRODUCT
Mackerel Fillets in Olive Oil 125g. The excellent qualities of Delicius mackerel fillets and all their content of precious nutrients, safely and easily packed in our signature box that has become one of the brand's symbols over time. The must-have ingredient for a perfect salad.
The superior quality of Delicius products does not stop at anchovies. Discover the mackerel fillets and enjoy the taste of healthy and delicate fish.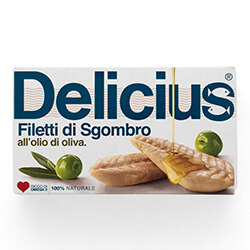 INGREDIENTS
1 pack of Delicius mackerel fillets in olive oil
4 medium potatoes
1 spring onion (salad onion)
1 tablespoon of mustard in grains
4 celery sticks
7-8 unshelled walnuts
1 hard boiled egg
Half a tablespoon of vinegar
Extra virgin olive oil
Salt/Pepper
PREPARATION
Boil the potatoes in salted water, peel them and cut them in regular parts. In the meantime cut the spring onion in small pieces and remove the filaments of the celery, then cut it too.
Mix the potatoes, the spring onion, the celery in a bowl, season with extra virgin olive oil, salt, pepper and a tablespoon of mustard in grains. 
Then remove the oil from the mackerel fillets, daring them.
For the sauce: blend the hard boiled egg in a mixer with a olive oil, half a tablespoon of vinegar, salt and pepper.
Serve the potato salad, with the Delicius mackerel fillets on top and complete with some walnuts and decorate with the egg sauce.