Ingredients for 4 people
Preparation time: 30 minutes
the DELICIUS product
Anchovy Fillets in Spicy Sauce 50g. Open our signature tin box of Delicius anchovies in spicy sauce and discover a unique and appetising new taste.
All the experience and the wise practice of entire generations has brought to the creation of a secret recipe for this special and tasty sauce.
A product of extremely high quality, an explosive pleasure, which you will learn to love. A family secret that has never been revealed!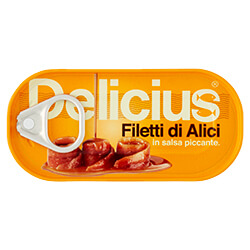 Ingredients
Delicius Anchovy fillets in spicy sauce
4 slices of a small sized pumpkin
2 pieces of yellow pepper
2 pieces of red peppers
4 small chicory hearts
PReparation
Quickly bake the peppers in the oven until soft, then peel them and slice them in two parts, roll them up and assemble them in each skewer.
Then boil the chicory hearts (puntarelle) for 2 minutes, then drain them and put them on the skewers.
In the meantime cook the pumpkin in the oven at 180° for 15 minutes with some thyme and then also arrange it on the skewer.
Complete each of them with the Delicius anchovy fillet in spicy sauce and serve!