Ingredients for 4 people
Preparation Time: 30 minutes
CottoalDente Recipe
The DELICIUS products
Rolled Anchovy Fillets in Olive Oil DOUBLE 90g. Take two Delicius anchovy fillets, the ones that are really the best. Roll them up together and you will discover DOUBLE, the new anchovy twice the size, and twice the taste.In the classic glass jar they really seem huge, and they are. Hugely marvelous.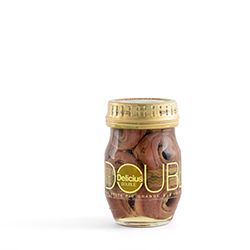 INGREDIENTs for 4 PEople
1 package of Delicius Double anchovies with chilli
2 Mullets
200 ml of sparkling water
200 g of 0 type flour
1 teaspoon of wine vinegar
1l of peanut seed oil (needed for frying)
Half a pineapple
1 tablespoon of sesame seeds
PReparation
Fillet the mullet, or if you prefer buy already cut fillets. Proceed with the batter, mixing the very cold sparkling water with the flour and the teaspoon of wine vinegar until the batter is formed and homogeneous. The batter must be very cold, keep it in the freezer for about twenty minutes before using it.
Cut the pineapple into tiny cubes and season with the oil from the anchovy fillets and black sesame seeds. With the round-shaped pastry rings, create a pineapple base in the center of the serving dish and place a rolled anchovy on top in the center.
Pass the mullet fillets into the batter and fry them in peanut seed oil (about 170ºC) until they become golden brown. Remove the mullet from the oil and let it rest on paper towels for a couple of minutes, to drain the excess oil. Season with salt and pepper. Complete the dish with the mullet fillet on the side of the pineapple tartare.