Ingredients for 4 people
Preparation time: 30 minutes
THE DELICIUS PRODUCT
Grilled Sardine Fillets in Olive Oil 90g. Delicius offers a light grilling also in its sardine fillets in olive oil. Here the scented taste of the sea, typical of the Sardina Pilchardus, meets the pleasant aroma of the cooking fire. These fillets are also hand processed directly on fishing locations to guarantee the highest possible content of Omega 3 and to preserve the sardines's naturally exquisite taste.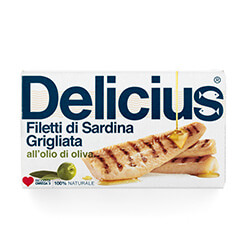 INGREDIENTs for 4 PEople
2 packs of Delicius Grilled Sardine Fillets in olive oil
4 small sweet peppers
4 small white onions
2 large ripe tomatoes
2-4 anchovy fillets in olive oil
2 slices of crumbled dry bread 
1 garlic clove
Parsley
Extra virgin olive oil
Salt
PREPARATION
Cut all the vegetables in half, then lie them on a baking tray and season with salt and olive oil. Finely chop the garlic clove, the parsley and the anchovy fillets.  Mix the ingredients with the crumbled bread and apply this mixture on top of all the vegetables. Bake in the oven at 200 degrees for 20 minutes. Drain the sardines and place each half on top of every vegetable, serve cold or warm according to preference.