Ingredients for 2 people
Preparation Time: 30 minutes
Cottoaldente Recipe
the delicius product
Rolled Anchovy Fillets in Spicy Sauce DOUBLE 60g. Take two Delicius anchovy fillets, the ones that are really the best. Roll them up together and you will discover DOUBLE, the new anchovy twice the size, and twice the taste. With the addition of our famous spicy sauce, a family secret recipe, it will then be impossible to open just one box. The DOUBLE anchovy fillets in spicy sauce are in our signature tin box. Discover a unique and appetising new taste.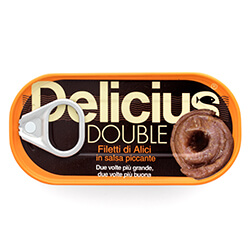 Ingredients for 2 people
1 package of Delicius Double anchovies in spicy sauce
2 beetroots 
4 prawns
2 lettuce leaves
Half a lemon juice
Mint
Crumbled pistachio nuts
Preparation
Peel the beets with the potato peeler and cut them with the spiralizer in order to obtain noodles. Start preparing the sauce, mixing the oil from the anchovies in a small bowl with the lemon juice, salt and pepper. Season the noodles and mix well. Clean the prawns, removing the internal parts and intestines, then boil them for 2 minutes in salted water.
Serve by putting a lettuce leaf on the bottom of the plate, place the neatly rolled beet noodles in the center and add the prawns, the crumbled pistachio nuts and mint leaves around it. Garnish with a Delicius Double anchovy on top.