Ingredients for 4 people
Preparation time: 45 minutes
Timo&Basilico Recipe
The Delicius product
Rolled Anchovy Fillets in Spicy Sauce DOUBLE 60g Take two Delicius anchovy fillets, the ones that are really the best. Roll them up together and you will discover DOUBLE, the new anchovy twice the size, and twice the taste. With the addition of our famous spicy sauce, a family secret recipe, it will then be impossible to open just one box. The DOUBLE anchovy fillets in spicy sauce are in our signature tin box. Discover a unique and appetising new taste.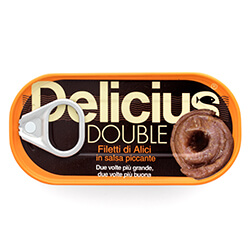 Ingredients for 4 people
1 pre-made roll of Pasta Brisée
7 Delicius Double anchovy fillets in spicy sauce
300 g Floury potatoes
1 Egg
2 tablespoons of grated Grana Padano cheese
2 tablespoons of ricotta cheese 
3 tablespoons of fresh cream
To garnish:
4 or 5 tablespoons of ricotta cheese 
4 Delicius Double anchovy fillets in a spicy sauce
Pink Pepper
Preparation
Peel the potatoes and boil them in boiling salted water. Drain and crush them with a fork in a large bowl, when they are still hot. Combine the other ingredients: the egg, the 3 anchovy fillets chopped with your fingers, the Grana Padano cheese, the ricotta cheese, and the fresh cream. Work, always with the fork until you obtain a homogeneous mixture.
Butter the moulds needed for the tartlets, adding a little bit of flour, and cover them with the pasta brisée up to the edges.
Prick the surface with a fork and place an anchovy fillet in each mold directly above the brisée dough.
Transfer the cheese/potato mixture into a sac-a-poche with the star-shaped spout, then fill the molds.
Bake at 180 degrees for 30 minutes. Once ready, let them cool briefly and carefully remove the tartlets from the molds.
Finally garnish with ricotta flakes, an anchovy fillet and pink pepper.