Ingredients for 2 people
Preparation time: 25 minutes
THE Delicius PRODUCT
Anchovy Paste with Spicy Sauce 'Gusto RICCO' 60g. The Delicius anchovy paste is prepared with the same salted anchovies used in the making of our fillets. The creation of our anchovy paste comes from a family recipe that has maintained its classic preparation as years have passed. Only salted anchovies, oil and salt for a traditional version which can be used in many tasty ways. This version (Rich Taste) is enriched with  our signature spicy sauce to give a determined twist to those preparations and recipes that require a delightfully strong contribution of flavor. Also try it in the version with olive oil (Classic Taste) and with sunflower oil (Delicate Taste).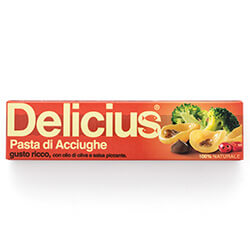 INGREDIENTs for 2 people
10 g Anchovy Paste with spicy sauce "gusto ricco"
200 g squid ink Tagliolini pasta
30 g Breadcrumbs
20 Plum tomatoes
30 g Fennel herb
2 Garlic cloves
1-2 Chili peppers
PReparation
Prepare a sauté with a clove of garlic (having removed its inner part), the chilli peppers (chopped if you want to make it more spicy) and the anchovy paste "rich flavour", then cook for 2-3 minutes at medium heat. Add the plum tomatoes immediately (previously cut in halves), so that they lose their water and start to create a sauce; add salt and the thinly chopped fennel herb. Cook for about 15 minutes then remove the garlic clove. Separately toast the breadcrumbs in a pan with the other finely chopped garlic clove and oil. Stir until it is golden and crisp. Boil the squid ink tagliolini in salted water, cook them "al dente". Drain them and finish cooking them in the pan with the tomatoes.  Adjust with salt and olive oil and serve them neatly on a plate, sprinkle with the aromatic breadcrumbs on top and decorate with plenty of fennel herb.