Ingredients for 2 people
Preparation Time: 60 minutes
THE DELICIUS PRODUCT
Anchovy Fillets in Olive Oil 46g.
Open our signature tin box of Delicius anchovies in olive oil and discover the genuine taste of tradition. Only the highest quality fish is selected, then skilfully salted and let to rest for months and months in wooden barrels, until it is perfect. It is then transformed into our fleshy fillets with a soft and determined taste. All the experience and the wise practice of entire generations has been translated in such a simple yet tasty food. An authentic recipe that will make you discover the real and full taste of an anchovy. A product of extremely high quality and delicious pleasure.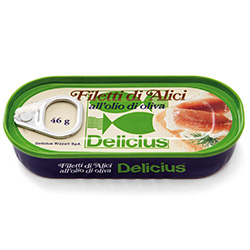 INGREDIENTS FOR 2 PEOPLE
1 Tin of Anchovy Fillets in Olive Oil
10-12 fresh squash blossoms
Rice flour
Sparkling water
150 g of Mozzarella cheese
1 onion
2 courgettes
Frying oil
PReparation
Clean the squash blossoms by removing the internal parts; and start heating the frying oil in a large frying pan. Prepare the batter with very cold sparkling water and rice flour: the batter should be quite dense to wrap the flowers entirely.
Leave the batter to rest for 30 minutes in the fridge; in the meantime, sautè the onion in a pan and once it is golden, add the roughly cut courgettes. Adjust with salt and pepper, and cook with the addition of hot water. Use a blender to obtain a fairly liquid sauce.Then start filling the squash blossoms from the bottom with a piece of mozzarella cheese and half an anchovy fillet; then fold the top to close the squash blossom. Immerse them in the batter and then immediately in the hot oil, so that it seals straight away and the filling does not leak out.
Repeat the process with all the squash blossoms, taking them out from the oil once golden. Serve them hot on a base of courgette sauce.