THE DELICIUS PRODUCT
Rolled Anchovy Fillets with Pantelleria Capers in Olive Oil  46g
Try the harmonious combination between our Delicius anchovies and the best quality capers: in this product the sea embraces the land of Sicily. Hand rolled with care and passion, one by one. All the experience and the wise practice of entire generations has created a simple yet tasty food, that can enrich all your recipes or can be enjoyed with a simple crouton. A product of extremely high quality and determined taste: the exquisite balance of sweet and salty that will spread the scent of the ocean in your mouth.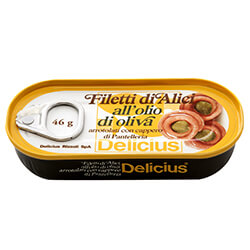 INGREDIENTs For 2 PEOPLE
1 tin of Delicius rolled anchovy fillets with Pantelleria capers in olive oil 46g
Pizza dough
1 Mozzarella cheese for pizza making 
PREPARATION
Separate the pizza dough and place it in two (or more) smaller round baking trays. Add a couple spoons of tomato sauce, some pieces of mozzarella cheese, and salt. Thinly cut the red and yellow peppers and sauté them in a pan with olive oil and a garlic clove. Then add the peppers to the pizza topping and put the pizzas in the preheated oven at 200 degrees for 30-35 minutes. 
5 minutes before removing the pizzas, add a couple Delicius rolled anchovy fillets with Pantelleria capers on top. Cook for the remaining 5 minutes. Before serving add a couple leaves of rocket salad on top and a little olive oil.