THE DELICIUS PRODUCT
Anchovy Fillets in Olive Oil 100g Superior
100 grams of exquisite taste. It might be because of the selection process which is carried out by hand. It might be because they are bigger. It might be because they are so plump, pink and with that scent that reminds us of the sea. One thing is certain though: nobody can remain unaffected when meeting the "Superior" Anchovies. Our biggest anchovies, sourced from only the highest quality fish, skilfully salted and let to rest for months and months. Carefully cured, filleted and packed by hand, with the same care and love that has distinguished our work over the years. An impeccable quality that can be seen through the glass jar that expresses perfection even before it has been opened.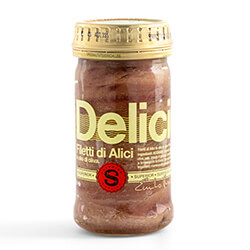 INGREDIENTs FOR 4 PEOPLE
Delicius anchovy fillets in olive oil 
150g of flour 
200g of grated malga cheese 
PREPARATION
Mix 150g of flour with 2 egg yolks and a couple drops of olive oil. If the mixture results soft, add less flour. Work it for about 10 minutes, then cover it and let it rest 1 hour before laying it out. 
Mash two boiled potatoes, when they are still hot, and incorporate them with 200g of grated malga cheese, some pepper, juniper and a tablespoon of extra virgin olive oil. Adjust with salt. 
Lay down the dough and prepare some half-moon shaped ravioli with the potato and cheese stuffing. 
In the meantime cook 8 garlic cloves in a glass of water, and when they are soft drain them and mash them up. Add a spoonful of Delicius anchovy paste and a glass of fresh cream to the garlic puree. Make this sauce condense a little, add pepper. 
Cook the ravioli in lightly salted boiling water. Drain them and serve them with a topping of the creamy anchovy sauce. 
Garnish with a julienne of fried potatoes and leeks, and a couple Delicius anchovy fillets in olive oil.