Rustic stuffed with anchovies and sweet provolone
Ingredients for 8 rustics
Preparation time: 20 minutes + 25 minutes of cooking time;
Difficulty: Easy
THE DELICIUS PRODUCT
Rolled Anchovy Fillets in Olive Oil DOUBLE 90g Take two Delicius anchovy fillets, the ones that are really the best. Roll them up together and you will discover DOUBLE, the new anchovy twice the size, and twice the taste. In the classic glass jar they really seem huge, and they are. Hugely marvelous.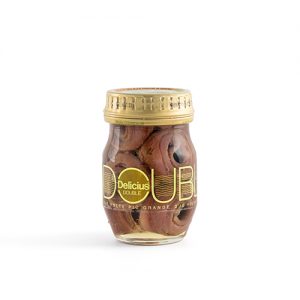 INGREDIENTS
Rectangular puff pastry, 3 rolls
Tomato sauce 50-60 ml, about (1 spoon per rustic)
Spicy pepper powder, (to taste)
Alici Delicius Double, 8
Sweet provolone, 80 g (approximately)
Bechamel, 50 g (approximately)
Basil, 8 leaves
Salt & Pepper
Egg, 1 (to brush)
PREPARATION
Cut the Provolone into cubes. Take the puff pastry, use a pastry cup to make disk than arrange the discs on a baking pan covered with baking paper, then brush lightly with beaten egg. Cover with a second disc of puff pastry to form the base of the rustic than arrange the filling in the middle: a spoonful of tomato sauce, a couple of cubes of provolone, Delicius anchovies , a spoonful of béchamel sauce, a pinch of chili powder, a leaf of basil, salt and pepper. It is very important for the success of the rustic, that all the filling is well concentrated in the center, forming a pile "higher than wide". Close with a third disc of puff pastry and press with a fork, to prevent the filling from leaking. In the end, brush well with beaten egg and at least cook in the oven at 195 degrees for about 25 minutes.