Ingredients for 2 people
Preparation Time: 60 minutes
THE DELICIUS PRODUCT
Sardine Fillets in Extravirgin Organic Oil 90g. Doing good to our planet and to ourselves can start from the purchasing choices we make at the supermarket. When you choose the Delicius sardines in organic extra virgin olive oil, you will discover the classic taste of our premium soft and tasty sardines, with the addition of the whole olive oil obtained from natural cultivation, without the use of chemical fertilizers and pesticides. From the separated pressing to the conservation, this oil follows all the norms and regulations of the organic certification. Delicius Sardine Fillets are selected and processed directly on fishing locations, to guarantee the highest possible content of Omega 3 and to preserve its naturally exquisite taste.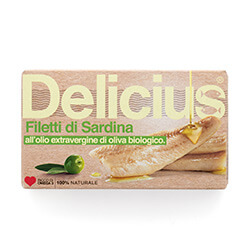 INGREDIENTs for 2 PEople
1 pack of Sardine fillets in organic extra virgin olive oil
250g of type 00 Flour
10g extra virgin olive oil
150g Water
1 Onion
40g of fennel herb
2 tablespoons of pine nuts
2 tablespoons of raisins
1 sachet of saffron
1 pinch of salt
PREPARATION
Prepare the fresh pasta by sieving the flour on a pastry board with the salt; start by forming a fountain hole with the flour and pour the oil in the middle, then the warm water little at a time. Proceed by working with your hands until you get a compact dough.
Let it rest in the refrigerator for 30 minutes before working it again. Take a small piece of dough and roll it out to form small cylindrical shapes, which should all be cut with the same length and width – left them dry on the "dirty" flour board. Prepare boiling salted water to cook the pici pasta in. For the sauce: sauté the thinly chopped onion, part of the fennel herb, the soaked raisins and the saffron powder (previously dissolved in water). Then add the whole sardine fillets and wet with a ladle of cooking water. The sardine fillets must be added at the end so they don't break into smaller parts. Meanwhile, cook the pici al dente, adding to the pan the rest of the fennel herb. Drain the pasta into the pan directly with the sauce and add more fresh chopped fennel herb; finally add the previously toasted pine nuts and finish by creaming the pasta with extra virgin olive oil. Serve very hot.