Ingredients for 2 people
Preparation Time: 30 minutes
THE delicius PRODUCT
Grilled Mackerel Fillets with Chilli in Olive Oil 85g. This might be the best version of our grilled mackerel fillets! Exquisite mackerel fillets, reinforced in taste by the chilli pepper and enhanced by the grilling.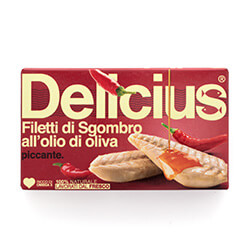 Ingredients for 2 people
125g of Delicius Spicy Mackerel Fillets in Olive Oil
60g of burnt wheat flour 
60g of double zero flour 
200g of turnip greens
1 Garlic clove
60g of 'Nduja
40g of Pecorino
water
salt
pepper
PREPARATION
Prepare the fresh pasta by mixing and sifting the two flours together, then create a small hole in the middle and pour the water gradually, mixing slowly with your hands until you obtain a compact dough. Let it rest for at least 30 minutes, then lay it down and roll it to form the orecchiette by hand.
Quickly cook the turnip greens, removing the outer leaves and passing them quickly in boiling water.
Meanwhile, using low heat, sauté the garlic clove in a pan with olive oil and add the 'nduja. Once it has melted add the turnip greens and sauté for a couple of minutes, then add the mackerel fillets.
Cook the orecchiette in the same water of the turnip greens and drain them "al dente", add them to the mix in the pan and cream with olive oil and pecorino cheese.