Ingredients for 2 people
Preparation Time: 30 minutes
THE DELICIUS PRODUCT
Anchovy Fillets in Spicy Sauce 50g. Open our signature tin box of Delicius anchovies in spicy sauce and discover a unique and appetising new taste.
All the experience and the wise practice of entire generations has brought to the creation of a secret recipe for this special and tasty sauce.
A product of extremely high quality, an explosive pleasure, which you will learn to love. A family secret that has never been revealed!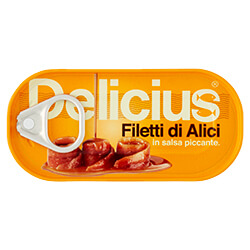 Ingredients for 2 people
1 tin of anchovy fillets in spicy sauce
250 g of orecchiette
1 burrata
rock salt
Extra virgin olive oil
10 cherry tomatoes
For the bread crumble:
2 slices of toast bread
1 teaspoon of vegetable charcoal powder 
2 tablespoons of olive oil

PReparation
Wash the tomatoes, season them with EVO oil and rock salt and bake them in the oven at 200 degrees for 30/40 minutes. Once they are cooked remove the peel and keep them aside. For the bread crumble: in a blender, blend the bread until it has become a sandy mixture, then cook it in a pan with the oil and vegetable charcoal powder until it becomes crispy.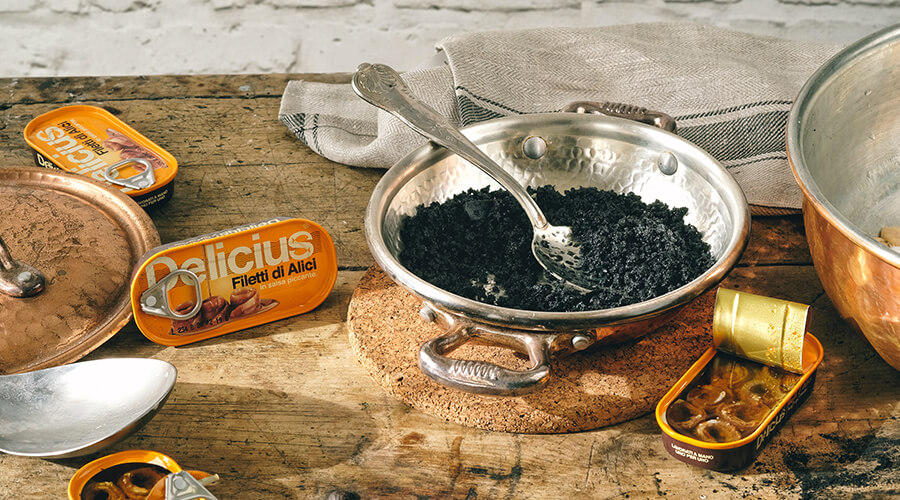 Blend the burrata with its water until a soft cream is obtained. Cook the orecchiette in boiling salted water, drain them and mix with the burrata cream. 
Serve and complete with confit tomatoes on top, anchovy fillets in spicy sauce, anchovy oil (from the anchovy jar) and black bread crumble.