Ingredients for 1 Roll
Preparation time: 20 minutes
the DELICIUS product
Rolled Anchovy Fillets in Olive Oil 230g Superior. It's a big jar, a great jar. Full of magnificent anchovy fillets of the best quality. Already rolled, ready to bring some magic to your recipes.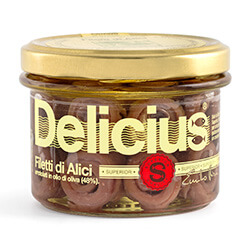 INGREDIENTs for one roll
200 g of Delicius Rolled Superior Anchovies in olive oil
1 roll of rectangular puff pastry
200 g of goat cheese
100 g of ricotta cheese
Extra virgin olive oil
1 egg
Thyme
PReparation
Put together the goat cheese, the ricotta cheese, the sprinkled dry thyme, olive oil and the previously finely chopped anchovies. Mix together thoroughly to obtain a homogeneous cream filling. Lay down the puff pastry and spread the mixture equally on the whole pastry, then roll it up to obtain a long thick roll. Cut it into the small round slices (rolls) with a thickness of about 2.5 cm, then place them on a baking tray on top of baking paper and brush them completely with the egg (previously beaten). Bake in the oven at 180 degrees for 15 minutes. Serve hot so the cheese is perfectly melted!