Ingredients for 10 people
Preparation Time: 20 minutes
the DELICIUS product
Anchovy Fillets in Spicy Sauce 50g. Open our signature tin box of Delicius anchovies in spicy sauce and discover a unique and appetising new taste. All the experience and the wise practice of entire generations has brought to the creation of a secret recipe for this special and tasty sauce.
A product of extremely high quality, an explosive pleasure, which you will learn to love. A family secret that has never been revealed!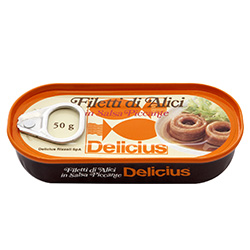 INGREDIENTs for 10 PEople
1 tin of Delicius anchovy fillets in spicy sauce
Mozzarella Bocconcini (small mozzarella bites)
2 eggs
Flour
150 g of breadcrumbs
½ lt of tomato sauce
Garlic
Sunflower seed oil for frying
Extra virgin olive oil
PReparation
Drain the small mozzarella cheese from their water and dry them with paper towels, then cut a small hole in the middle, keeping on the side the part you have removed. Using your fingers, fill them in the center with a rolled anchovy fillet in spicy sauce, then close the mozzarella hole with the piece you have previously removed. Pass the small bites in the flour, then in the previously beaten egg, then in the breadcrumbs, then egg again and then a final layer of breadcrumbs. Fry in plenty of sunflower seed oil, not too hot (around 155°) until they are golden and crisp.
On the side, prepare the marinara sauce with a sauté of a couple garlic cloves and extra virgin olive oil. Add the tomato sauce and the spicy sauce from the anchovy tin.
Cook the sauce for about fifteen minutes, add salt and blend if preferred (optional). Serve the very hot mozzarelle bites, with a side of marinara sauce for dipping!