Ingredients for 4 people
Preparation time: 30 minutes
THE DELICIUS PRODUCTS
Anchovy Fillets in Olive Oil 90g.
Slowly open the lid and discover the genuine taste of tradition. Only the best quality fish is selected by Delicius, skilfully salted and let to rest for months and months, until it is perfect. All the experience and the wise practice of entire generations has been translated in such a simple yet tasty food. An authentic recipe that will make you discover the real and full taste of an anchovy. The glass jar can't lie.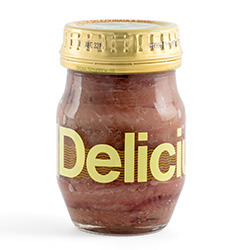 INGREDIENTS FOR 4 PEOPLE
90 g Anchovy fillets in olive oil 180 g of garlic
50 g Extra Virgin Olive Oil
120 g Milk
1 Beet
1 Boiled potato
1 Onion
1 Fennel
3 Carrots
1 Pepper
PREPARATION
Boil the potato and cook the onion in the oven seasoned with salt and oil, for 30 minutes at 190°. Peel the garlic, cut it in half and remove its inner part; boil the milk with the garlic cloves and simmer for about 20 minutes.
In another pan melt the Delicius Anchovies with Olive oil and cook slowly: they should not fry but delicately soften.
Once the anchovies have melted in a paste, add the mixture of garlic, milk and the remaining oil; simmer, stirring for about 30 minutes.
Cut the raw vegetables into thin slices.
Serve the bagna cauda with a side of both cooked and raw vegetables.