Ingredients for 2 people
Preparation time: 25 minutes
the DELICIUS producet
Sardine Fillets in Olive Oil 120g. Delicius also offers the filleted version of the highest quality sardines so that it is even easier to appreciate the taste of the sea, typical of the Sardina Pilchardus. The sardine fillets are also hand processed directly on fishing locations to guarantee the highest possible content of Omega 3 and to preserve the sardines's naturally exquisite taste.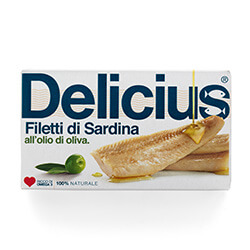 INGREDIENTs for 2 PEople
1 package of Delicius Sardine fillets in olive oil
PReparation
Cut the sardine fillets open in halves and remove the central bone. Subsequently slice the scamorza cheese and thinly chop the olives. Cut the courgettes in thin slices and grill them on both sided.
With the help of a round kitchen mould, start creating the lasagnetta on top of baking paper on a baking tray. Start by adding a bottom layer of tomato sauce, then courgettes, scamorza, sardines, chopped olives, almonds and dill. Repeat the various layers for 2/3 times each until you have filled the mould. Finish by grating on top a little caciocavallo cheese and salt.
Bake at 200° for 10 minutes, until the cheese is well melted. Serve hot!